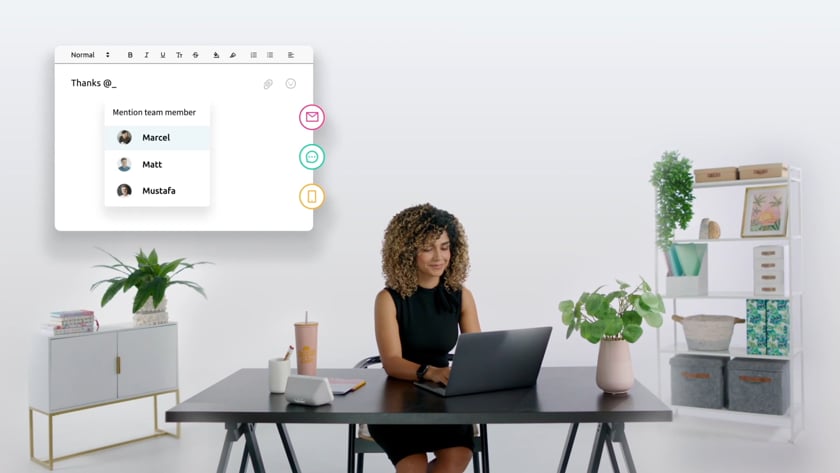 Project Details
Client: Codafication
Animation Type: 2D, animation, live action, hybrid, cel
Like milk and cookies, shoes and socks, or rama lama lama ka dinga da dinga dong, animation and live-action just 'go together'.
Codafication is pioneering new ways to make the world simpler.
Their scalable software solutions are classic out of the box thinking. So, they wanted something that both captured the simplicity of the use but also spoke to just how exciting they are.
"Tell me 'bout it stud"
When Codafication came to us with an idea we tipped over some furniture in Hulk-Smash style rage but then luckily Trav (Explanimate!'s Creative Director) dusted himself off and threw out a better idea.  "Most of the time the ideation process is super drawn out," he said. "But this time it was really clear what needed to happen and how we could do it." Luckily, for us and our decorators, they loved the idea and we ran with it.
It might be one man's vision but like raising a kid or an Amish barn, it takes a village. So we rolled up our sleeves and got stuck in. 
"You can't just walk out of a drive-in"
It started right from the script stage, it needed to convey the message but also needed to grab people and allow for sick visuals. 
The casting director started trawling through our favourite faces and when we couldn't find anyone to fit the bill for the FedEx guy, we had to look inwards, not all introspective like but actually inside our building and we came up with Dave. As our lead producer, Dave lives and breathes making sure people get what they want so it wasn't a stretch to become someone delivering packages. "Always fun to be away from the computer for a morning," he said, "the shorts could have been a little looser."
Setting up and shooting at the ever-friendly and gracious Newstead Studios was not without its hitches. If we're being honest, it was a straight-up ball kicker of a shoot. It was a public holiday – never a great start. Gear we needed wasn't available. And it was hotter than Hades's jockstrap after a particularly sweaty game of football. But when the vision is so clear, no one feels like they're wasting their time and any delays are met with a can-do attitude. 
Once the footage was back and it was clear they'd captured all the good stuff we needed our animators got to work, creating a mix of cel animation and motion graphics that allowed them to create the beautiful interface interactions and the bouncing colour streaks.
"It doesn't matter if you win or lose, it's what you do with your dancin' shoes"
Sometimes you create a video that you love and the client doesn't quite feel the same. Or you and the client are convinced it's a banger and no one else is fussed. This time it was the third and most preferred option, happy faces all round.
We slid on our dancin' shoes and everyone joined in.